DM 7025 | 600 | 500+

DreamEnum 0.9

DreamEnum is small tool to flash images into Dreambox via web interface. The boxes must be in the secondstage by holding the low-button when for DM7025 and the power-button for DM600/500+.

DreamEnum finds the boxes independently from the IP-Addresses with DHCP servers since it works over UDP-Broadcasts.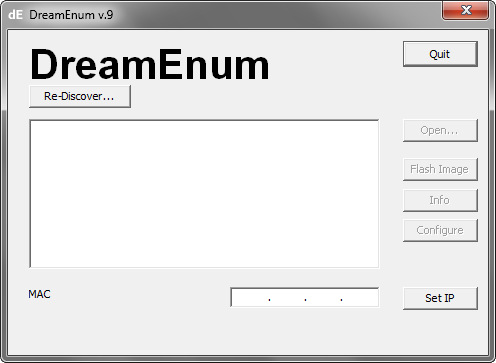 Re-Discover
sends a renewed inquiry after box in the net if one wants to embark a box later.
Open...
opens the Web-interface.
Flash image, Info and Configure
starts a Telnet-Connection into the Setup.
Set IP
puts the current IP of the box again on the set value.
Downloads
| | | | |
| --- | --- | --- | --- |
| Dreamenum V0.9 | 19-12-2010 | 0.01 MB | 0 |